My Account | Cart Contents | Checkout
Welcome Guest!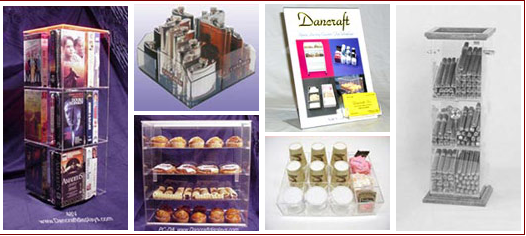 Dancraft Displays manufactures a wide variety of point of purchase acrylic displays. You will find everything from cup holders to humidors, as well as pastry cases and video displays.
Below you will find a quick overview of the products and services we offer or you can just browse our web site and view our products. We now offer online shopping for your convenience. (Please be sure to visit our clearance page for overruns and discontinued items at deep discounts.)
Cups, Lids & Condiment Displays: These acrylic organizers were designed to help maximize your counter space. Keep coffee cups, cold cups, straws and stir sticks, sugars and creamers neat and tidy. Ideal displays for convenience stores and food service areas.
Pastry & Food Displays: We have a wide selection of FDA approved bulk food bins and countertop pastry display cases. Dancraft even has a rack style bagel bin that works in most donut shops. These products are great for café´s colleges, deli´s and cafeterias.
Humidors: Set up a satellite smokeshop with one of our acrylic display humidors. Traditional and contemporary styles available. Humidors range in capacity from 50 to 300 cigars.
General Merchandise Displays: Dancrafts´ general merchandise displays were designed to maximize product exposure where your counter space is minimal. We have displays for videos, cds, bulk and boxed candy, sport cards, condiments and more.
Sign and Literature Displays: Many sizes of T-Style and Angled sign holders with or without literature and business card pockets. Brochure holders accommodate standard tri-fold literature. Custom run sizes not a problem.
Custom Fabrication: Dancraft can design, prototype and production run large or small volume custom displays. See examples of our Screenprinting and precision cnc and laser cut component parts on our custom page.
Please take a moment to review our shipping and return policies.
Thank you for visiting Dancraft Displays.
Saturday 17 June, 2006